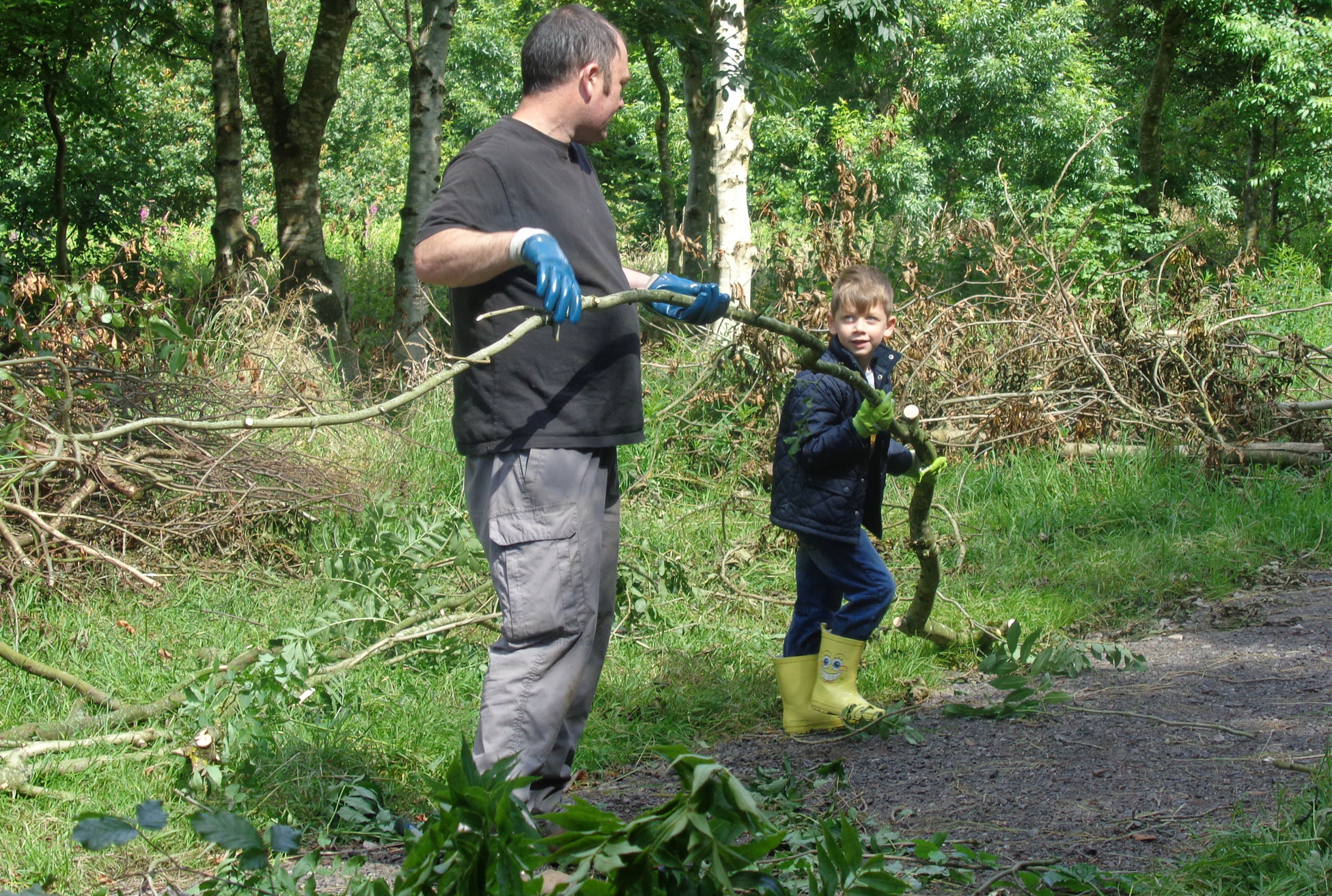 Forest Schools is a feeling you can't put into words!
Forest Schools is the most fun you can have with a stick, a bit of rope, a potato peeler and a muddy puddle. From tying up tarps to treasure hunts, campfire cooking to den building, this outside activity is a true adventure for you and your child.
Adventure Hyndburn's trained Forest Schools Practitioners plan a whole host of exciting opportunities which will inspire you to experiment, discover, learn and achieve in the outdoors, building relationships, confidence and self-esteem along the way.
Adventure Hyndburn hosts regular Forest Schools sessions with local schools and nurseries across two woodland sites in Accrington - The Park Child & Family Centre Woodland and Rothwell Heights Woodland.
Click the links below to see some of our latest adventures in Forest Schools...!
"Exploring Stick Man in Forest Schools"
"Rafts of Fun in Forest Schools"
Comments from young people:

My favorite part of forest school was finding insects and picking them up, they're not scary. I really want to come again I have had so much fun I learnt lots.
I have learnt to climb a tree and to work together in a team. My favourite thing was getting muddy in the puddles. I would like to come to forest school again because it helps you learn.
My favourite part of forest school was making habitats for animals. I learnt what lives there and what they need to survive.
I loved everything about forest school – I feel like Bear Grylls!
My favourite part of forest school was exploring and climbing trees because I never get to do it. I love it here.
My favourite part of Forest School was the obstacle course, playing '1-2-3 where are you?' and making shelters. I loved hiding in the den we built. I'd love to come every week!
My class have thoroughly enjoyed their Forest School experience. They have had the opportunity to participate in a wide range of activities including den building, fire lighting, roasting marshmallows and rope knotting to name just a few. These activities have provided the children with opportunities to work together as a team, collaborate and problem solve. The children have also been learning about nature as part of their Forest School sessions and the importance of respecting the environment. The feedback from the children has been unanimously positive and has supported them in their learning in a number of different curriculum areas. It has been a highlight of the year so far for the class.
It's really nice to observe the children really interacting with each other in a different environment.
Many teachers make comments about the children being completely different in the forest school environment to how they were at school – how they engage, how they behave and how much language they use, even just laughing.
One teacher commented that one particular child didn't usually talk in class and struggled to interact with others in the yard, yet at forest school he was talking to all the children and staff and answering questions.
He's really come on – he doesn't stop talking about the things he's done in Forest School.
The way they talk about Forest School has inspired the other children to want to come.
It's good to build on in school, the children are really enthusiastic about what they have done during the session.